Lord Shiva and leaves of Bael
From Biodiversity of India
Lord Shiva and leaves of Bael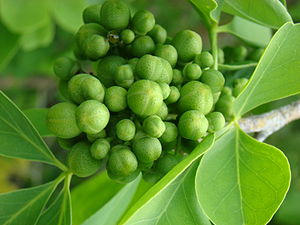 | | |
| --- | --- |
| Contributed by: | Madhuri Y |
| Discussed species | Bael (Aegle marmelos) Sanskrit: विल्व, Malayalam: കൂവളം, Bengali: বেল, Hindi: बेल (Sirphal), Marathi: बेल or कवीठ (Kaveeth), Oriya: ବେଲ, Sindhi: ڪاٺ گدرو , Sinhalese: beli, Tamil: வில்வம் (Wikipedia) |
| Comments | This tree species is native to India |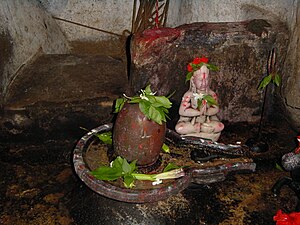 Lord Shiva is one of the Hindu trinity, Brahma, Vishnu, Maheshwara. His names include Rudra, Hara, Maheshwara, Natraj among others, based on the manifestation. Shiva is believed to be the destroyer of the world, while Brahma is the creator and Vishnu, the preserver. Bel leaf is one of the key ingredients of worship for Lord Shiva.
The bel leaf is known as bilva patra in Sanskrit or the leaf of wood apple[1]. Many meanings are derived from the trifoliate (three-pronged) shape of the bel leaf. One of the beliefs is that it symbolizes the trident held in Lord Shiva's right hand[2]. It also symbolizes the three functions of creation, preservation and destruction, the three gunas of Rajas, Tamas and Sattva as well as Lord Shiva's three eyes[3].
The Shiva Purana tells the story of the effect of worshiping Lord Shiva with the bel leaf[4][5].
A hunter once had to go hunting on the day of Maha Shivaratri when Lord Shiva is worshipped because his family was hungry. At the end of the day, the hunter was not able to find any prey. He climbed a tree by a lake, waiting for an unsuspecting animal to come for a drink. He did not realize that the tree he had climbed was a bilva tree. Buried at the foot of the tree was a Shivling, the representation of Lord Shiva for worship. During the night, he kept throwing the bilva leaves on the ground and they fell on the Shivling. This unknowing worship to Lord Shiva was enough to transform the hunter into a compassionate and understanding human being and frees him from his past bad karma.
The bel tree is well-known for its medicinal properties and is used in Ayurveda, the traditional Indian medicine. It is used to treat dyspepsia, sinusitis, tuberculosis, lack of appetite and chronic constipation[2].
Other media
References
Comments
blog comments powered by

Disqus
More notes like this
Only 15 articles are shown in this list. A total of 64 articles in the database as of this moment. For the complete list, click on further results on the bottom right corner of the above table.
| | | | | | |
| --- | --- | --- | --- | --- | --- |
| Title | Lord Shiva and leaves of Bael | Article is on this general topic | Mythological stories | Author | Madhuri Y |
| Specific location(s) where study was conducted | Not noted | General region where study was conducted | Not noted | State where study was conducted | Pan-India |
| Institutional affiliation | Not noted | Institution located at | Not noted | Institution based around | Not noted |
| Species Group | Plants | User ID | User:Madhuri | Page creation date | 2011/11/12 |
Share this page: