Uses of Henna plant
From Biodiversity of India
Uses of the Henna plant
Source: Wikipedia article on Henna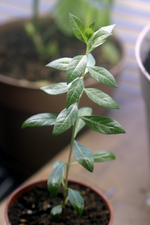 | | |
| --- | --- |
| Species discussed | Lawsonia inermis (Mignonette tree, Henna) |
| Description | Henna is a flowering plant used since antiquity to dye skin, hair, fingernails, leather and wool. The name is also used for dye preparations derived from the plant, and for the art of temporary tattooing based on those dyes. The English name "henna" comes from the Arabic حِنَّاء (ḥinnāʾ / pronounced [ħɪnˈnæːʔ]) or colloquially حنا, loosely pronounced /ħinna/. |
| Distribution | The henna plant is native to North Africa, southern Asia, and northern Australasia in semi-arid zones. Henna's indigenous zone is the tropical savannah and tropical arid zone, in latitudes between 15° and 25° N and S from Africa to the western Pacific rim, and produces highest dye content in temperatures between 35 °C and 45 °C[1]. Henna is commercially cultivated in UAE, Morocco,Algeria, Yemen, Tunisia, Libya, Saudi Arabia, Egypt, western India, Iraq, Iran, Pakistan, Bangladesh, Afghanistan, Turkey, Somalia and Sudan. |
Henna has been used since the Bronze Age to dye skin (including body art), hair, fingernails, leather, silk and wool. In several parts of the world it is traditionally used in various festivals and celebrations. There is mention of henna as a hair dye in Indian court records around 400CE,[2] in Rome during the Roman Empire, and in Spain during Convivencia.[3] It was listed in the medical texts of the Ebers Papyrus (16th c BCE Egypt)[4] and by Ibn Qayyim al-Jawziyya (14th c CE (Syria and Egypt) as a medicinal herb.[5] In Morocco, wool is dyed and ornamented with henna, as are drumheads and other leather goods.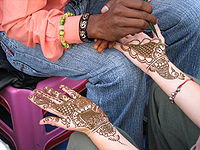 Muslims also use henna as a dye for their hair and for the beards of males--following the tradition of their Prophet Muhammad, who used to dye his beard with henna. It's considered a "sunnah" and akin to something fortunate/good. In one narration by him, he encouraged Muslim women to dye their nails with henna so their hands can be distinguished as feminine & from the hands of a male. Hence you will see this tradition greatly in the Middle East and Africa where women apply henna to their finger and toe nails, as well as their hands[citation needed].
'Mehndi is the application of henna as a temporary form of skin decoration in India. The word mehndi is derived from the Sanskrit word mendhikā.[6] The use of mehndi and turmeric is described in the earliest Vedic ritual books. Haldi(Staining oneself with turmeric paste) as well as mehndi are important Vedic customs as a symbolic representation of the Outer and the Inner Sun[citation needed]. Vedic customs are meant to awaken the "inner light" and so the gold of the inner Sun has an important symbolic function[citation needed].
Traditional mehndi designs draw the sun on the palm, which in this context represents the mind. Mehndi decorations became fashionable in the West in the late 1990s, where they are sometimes called henna tattoos. Henna is typically applied during special occasions like weddings and Hindu festivals like Karva Chauth, Diwali, Bhaidooj and Teej. In some Hindu festivals, every woman tries to have Henna done on her hands and feet. It is usually drawn on the palms and feet, where the color will be darkest because the skin contains higher levels of keratin which binds temporarily to lawsone, the colorant of henna. Henna was originally used as a form of decoration mainly for brides.
Various uses have been reported for different parts of the Henna plant[1]:
| | |
| --- | --- |
| Root | Leprosy, skin diseases, amenorrhoea, dysmenorrhoea and premature greying of hair |
| Leaves | Diuretic, expectorant, anti-inflammatory, liver tonic, haematinic, wound, ulcers, cough, bronchitis, burning sensation, diarrhoea, dysentery, leprosy, leucoderma, scabies, boils, anemia, hemorrhages, amenorrhoea, falling of hair, greyness of hair, jaundice |
| Flowers | Burning sensation, cardiopathy, amentia, insomnia, fever |
| Seeds | Intellect promoting, constipating, intermittent fevers, insanity, amentia, diarrhoea, dysentery and gastropathy |
The primary active ingredient of Henna which gives it its color is the compound Lawsone.
Other Media
| How to draw a bridal Mehendi | |
| --- | --- |
References
Comments
blog comments powered by

Disqus
More notes like this
Only 15 articles are shown in this list. A total of 64 articles in the database as of this moment. For the complete list, click on further results on the bottom right corner of the above table.
| | | | | | |
| --- | --- | --- | --- | --- | --- |
| Title | Uses of Henna plant | Article is on this general topic | Uses of biodiversity | Author | Gaurav Moghe |
| Specific location(s) where study was conducted | Not noted | General region where study was conducted | Not noted | State where study was conducted | Pan-India |
| Institutional affiliation | Not noted | Institution located at | Not noted | Institution based around | Not noted |
| Species Group | Plants | User ID | User:Gauravm | Page creation date | 2012/02/06 |
Share this page: