The Asiatic Lion in Indian culture
From Biodiversity of India
The Asiatic Lion in Indian culture
Contributed by: Gaurav Moghe
Adapted from: Wikipedia article on Lion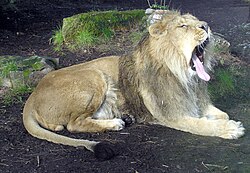 | | |
| --- | --- |
| Discussed species | Panthera leo, Asiatic Lion, सिंह |
| Distribution | About 10,000 years ago, the lion was the most widespread large land mammal after humans. They were found in most of Africa, across Eurasia from western Europe to India, and in the Americas from the Yukon to Peru. Historically, extending from Northern India to Iran and sometimes as far as Greece and Italy. Today, only 411 lions left; only in Gir forest in Gujarat [1] |
| IUCN Status | Endangered [2] |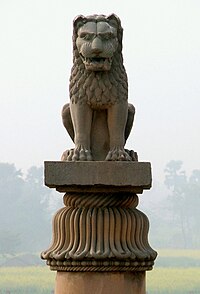 Representations of lions date back 32,000 years; the lion-headed ivory carving from Vogelherd cave in the Swabian Alb in southwestern Germany has been determined to be about 32,000 years old from the Aurignacian culture.[3]. The lion has been an icon for humanity for thousands of years, appearing in cultures across Europe, Asia, and Africa. Despite incidents of attacks on humans, lions have enjoyed a positive depiction in culture as strong but noble. A common depiction is their representation as "king of the jungle" or "king of beasts"; hence, the lion has been a popular symbol of royalty and stateliness,[4] as well as a symbol of bravery.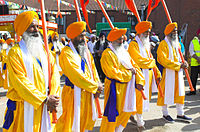 In the Puranic texts of Hinduism, Narasimha ("man-lion") a half-lion, half-man incarnation or avatar of Vishnu, is worshipped by his devotees and saved the child devotee Prahlada from his father, the evil demon king Hiranyakashipu;[5] Vishnu takes the form of half-man/half-lion, in Narasimha, having a human torso and lower body, but with a lion-like face and claws.[6] Singh is an ancient Indian vedic name meaning "lion" (Asiatic lion), dating back over 2000 years to ancient India. It was originally only used by Rajputs a Hindu military caste in India.
After the birth of the Khalsa brotherhood in 1699, the Sikhs also adopted the name "Singh" due to the wishes of Guru Gobind Singh[7]. Found famously on numerous flags and coats of arms all across Asia and Europe, the Asiatic lions also stand firm on the National Emblem of India - the Ashoka Pillar at Sarnath[8]. The Lion is also depicted as a vehicle of Goddess Durga, Lord Rahu and Bharat Mata (Mother India).
Further south on the Indian subcontinent, the Asiatic lion is symbolic for the Sinhalese,[9] Sri Lanka's ethnic majority; the term derived from the Indo-Aryan Sinhala, meaning the "lion people" or "people with lion blood", while a sword wielding lion is the central figure on the national flag of Sri Lanka[10].
References
Comments
blog comments powered by

Disqus
More notes like this
Only 15 articles are shown in this list. A total of 64 articles in the database as of this moment. For the complete list, click on further results on the bottom right corner of the above table.
| | | | | | |
| --- | --- | --- | --- | --- | --- |
| Title | The Asiatic Lion in Indian culture | Article is on this general topic | Mythology and religion | Author | Gaurav Moghe |
| Specific location(s) where study was conducted | Not noted | General region where study was conducted | Not noted | State where study was conducted | Pan-India |
| Institutional affiliation | Not noted | Institution located at | Not noted | Institution based around | Not noted |
| Species Group | Mammals | User ID | User:Gauravm | Page creation date | 2011/10/28 |
Share this page: