Wolf in Indian culture
From Biodiversity of India
The Indian Wolf
Adapted from Wikipedia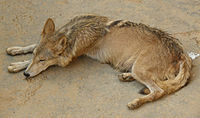 Indian wolves, along with Arabian and Tibetan wolves, are among the wolf subspecies generally suspected to have been the main ancestors of domestic dogs[3]. ALl of us remember Mowgli and his wolf-brothers, right? Indian wolves take a central role in Rudyard Kipling's The Jungle Books, in which a pack in the Sioni area adopts Mowgli and teaches him how to survive in the jungle whilst protecting him from the tiger Shere Khan and the marauding dhole.
Indian wolves tend to brush more with civilization, a behavior that may have contributed to their domestication as dogs and also something that has helped push them towards extinction. Indian wolves have a history of preying on children, a phenomenon called "child-lifting". In India, Hindus traditionally considered the hunting of wolves, even dangerous ones as taboo, for fear of causing a bad harvest. The Santals however considered them fair game, as with every other forest dwelling animal.[4] During British rule in India, wolves were not considered game species, and were killed primarily in response to them attacking game herds, livestock and people. Overall, it is thought that up to 100,000 wolves were killed in British India between 1871-1916[5].
The depiction of wolves in Indian mythology as wily, conspiring, wicked creatures also probably contributed to their reducing numbers. In the Rig Veda, Rijrsava is blinded by his father as punishment for having given 101 of his family's sheep to a she-wolf, who in turn prays to the Ashvins to restore his sight[6]. In Mahabharata, Bhima, the voracious son of the god Vayu, is described as Vrikodara, meaning "wolf-stomached".[7]. In the Harivamsa, Krishna, in order to convince the people of Vraja to migrate to Vrindavan, creates hundreds of wolves from his hairs, which frighten the inhabitants of Vraja into making the journey.[8].
Wolves find frequent mention in many mythical stories around the world reminding us of the fact that these creatures once roamed vast swathes of land in Europe and Asia. For example, The Bible contains thirteen references to wolves, which are usually used as metaphors for greed and destructiveness[9].
For a complete review of such stories, please check Wolves in folklore, religion and mythology article on Wikipedia.
References
Comments
blog comments powered by

Disqus
More notes like this
Only 15 articles are shown in this list. A total of 64 articles in the database as of this moment. For the complete list, click on further results on the bottom right corner of the above table.
| | | | | | |
| --- | --- | --- | --- | --- | --- |
| Title | Wolf in Indian culture | Article is on this general topic | Mythology and religion | Author | Gaurav Moghe |
| Specific location(s) where study was conducted | Not noted | General region where study was conducted | Not noted | State where study was conducted | Pan-India |
| Institutional affiliation | Not noted | Institution located at | Not noted | Institution based around | Not noted |
| Species Group | Mammals | User ID | User:Gauravm | Page creation date | 2011/10/04 |
Share this page: