How to use drumsticks to purify water
From Biodiversity of India
How to use drumsticks to purify water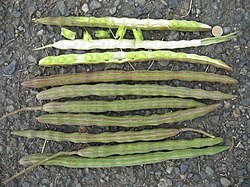 Contributed by: Shwetank Verma
| | |
| --- | --- |
| Discussed species | Moringa oleifera, Senjana सेंजन (Hindi), Muringai (Malayalam), முறுங்கை Murungai (Tamil), Shevga शेवगा (Marathi), Mashinga मशींग (Konkani) More on Flowers of India |
| Description | It is an exceptionally nutritious vegetable tree with a variety of potential uses. (Wikipedia) |
Drumsticks are consumed almost all over India. They are used as vegetables in curries, added to Sambhar etc. But there is another traditional use of Drumsticks that not a lot of people know of - water purification.
What do we do when we get murky water from taps, we generally boil it, sediment the larger particles and then filter the water using some cloth. This is how it is done in most lower class and even in some middle class homes. However, this wastes lot of cooking gas which is a privilege in most Indian homes. Our ancestors had a simple solution to the problem of water filtration - adding a little bit of powder obtained from drumstick seeds. In a matter of minutes, the drumstick particles binds to the dirt and sediment the dirt down. This process also reduces the bacterial load by 90.00% to 99.99% [1].
Moringa oleifera (drumstick) also offers many other amazing benefits. In Siddha medicine, drumstick seeds have been suggested as a drug for treating erectile dysfunction in men and also in women for prolonging sexual activity. Traditionally its leaves are given to women during the breastfeeding months since it is known to be helpful in increasing breast milk [2].
Additional Media
| | |
| --- | --- |
| Purifying water with Moringa seeds in Africa | Moringa - The Miracle Tree |
| | |
References
Comments
blog comments powered by

Disqus
More notes like this
Only 15 articles are shown in this list. A total of 64 articles in the database as of this moment. For the complete list, click on further results on the bottom right corner of the above table.
| | | | | | |
| --- | --- | --- | --- | --- | --- |
| Title | How to use drumsticks to purify water | Article is on this general topic | Uses of biodiversity | Author | Shwetank Verma |
| Specific location(s) where study was conducted | Not noted | General region where study was conducted | Not noted | State where study was conducted | Pan-India |
| Institutional affiliation | Not noted | Institution located at | Not noted | Institution based around | Not noted |
| Species Group | Plants | User ID | User:Shwetankverma | Page creation date | 2011/11/12 |
Share this page: