Hornbills and their role in maintenance of rainforests
From Biodiversity of India
Hornbills and their role in maintenance of rainforests
Author: Shwetank Verma'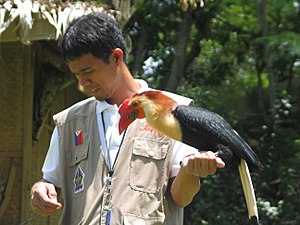 The role of birds in maintaining rainforests is frequently under-appreciated. An example in this regard is the Hornbill. Hornbills are large frugivores birds which are more efficient in seed dispersal in terms of wider range of fruit/seed sizes than other small frugivores birds.
There are total fifty-four species of hornbills found in Sub-Saharan Africa, India, and Southeast Asia and New Guinea of which 23 species are fond in Africa and 31 in Asia. Their contribution to the maintenance of forests has been scientifically recognized and they are regarded as "farmers of the forest". The most extensive study on feeding behavior of hornbills by Shumpei Kitamura[1] suggests that they feed on 748 plant species from 242 genera and 79 families. In this report, author also suggests that, survival of the seeds after passing through gut of hornbill is quite good. Also, a significant number of seed species showed enhanced germination efficiency after passing through their digestive system. After feeding, hornbills usually regurgitate or defecate seeds when perched. The home range of these birds, depending on their size, can vary from 700 Hectare to 2400 Hectare with daily movements regularly extend to at least 10 km, which suggests they can be much more efficient than the other smaller frugivores in dispersing seeds at a wider range of territory. Studies by Kinnaird [2] on the distribution pattern of seeds by hornbills suggested that they help in increasing the abundance and diversity seedlings near the nesting site. A relatively long retention time of the seeds in the gut also contributes to relatively wide spread of seeds. Unfortunately, relatively large frugivores like Hornbills are vulnerable to extinction, as most of the rain forests in Asia are under tremendous anthropogenic pressures such as hunting, and habitat loss or, degradation. Some of these hornbill species are among the rarest in the world, with only ~40 individuals left! Dwindling number of these forest farmers will have reaching effects on the maintenance of the rainforests itself. So, the close association between hornbill population for maintenance of rainforests as well as conservation of rainforests to prevent extinction of Hornbills has to be scientifically examined before implementing any developmental projects in such eco sensitive zones.
References
Comments
blog comments powered by

Disqus
More notes like this
Only 15 articles are shown in this list. A total of 64 articles in the database as of this moment. For the complete list, click on further results on the bottom right corner of the above table.
| | | | | | |
| --- | --- | --- | --- | --- | --- |
| Title | Hornbills and their role in maintenance of rainforests | Article is on this general topic | Biodiversity conservation | Author | Shwetank Verma |
| Specific location(s) where study was conducted | Not noted | General region where study was conducted | Not noted | State where study was conducted | Pan-India |
| Institutional affiliation | Not noted | Institution located at | Not noted | Institution based around | Not noted |
| Species Group | Birds | User ID | User:Not noted | Page creation date | 2012/07/25 |
Share this page: