Holi festival, environment and biodiversity
From Biodiversity of India
The Holi festival, environment and biodiversity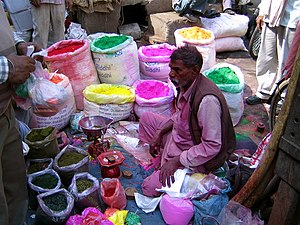 Some sections of this article have been adapted from the Wikipedia article on Holi.

The Holi festival, also known as the Festival of Colors, is one of the most popular festivals in the India. It is celebrated with gusto and vigor all across the country and has found numerous representations in popular culture (see additional media below). Holi is celebrated at the end of the winter season on the last full moon day of the lunar month Phalgun (Phalguni Purnima), which usually falls in the later part of February or March. In most areas, Holi lasts about two days. One of Holi's biggest customs is the loosening strictness of social structures, which normally include age, sex, status, and caste. Every year, thousands of Hindus participate in the festival Holi. The festival has many purposes. First and foremost, it celebrates the beginning of the new season, spring. It also has a religious purpose, commemorating many events that are present in Hindu mythology. Although it is the least religious holiday, it is probably one of the most exhilarating ones in existence. During this event, participants hold a bonfire, throw colored powder at each other, and celebrate wildly.
Significance and origins of the Holi festival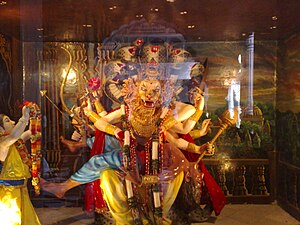 Mythological stories from India have always had a heavy association with local species, and the story of Holi is no different.

Original article: Wikipedia article on Holi

In Vaishnavism, Hiranyakashipu is the great king of demons, and he had been granted a boon by Brahma, which made it almost impossible for him to be killed. The boon was due to his long penance, after which he had demanded that he not be killed "during day or night; inside the home or outside, not on earth or in the sky; neither by a man nor an animal; neither by astra nor by shastra". Consequently, he grew arrogant and attacked the Heavens and the Earth. He demanded that people stop worshipping Gods and start praising him.
According to this belief, Hiranyakashipu's own son, Prahlada, was a devotee of Lord Vishnu. In spite of several threats from Hiranyakashipu, Prahlada continued offering prayers to Lord Vishnu. He was poisoned by Hiranyakashipu, but the poison turned to nectar in his mouth. He was ordered to be trampled by elephants yet remained unharmed. He was put in a room with hungry, poisonous snakes and survived. All of Hiranyakashipu's attempts to kill his son failed. Finally, he ordered young Prahlada to sit on a pyre on the lap of his demoness sister, Holika, who could not die because she also had a boon. And a boon which would prevent fire from burning her. Prahlada readily accepted his father's orders, and prayed to Vishnu to keep him safe. When the fire started, everyone watched in amazement as Holika burnt to death, while Prahlada survived unharmed, the burning of Holika is celebrated as Holi.
Hiranyakashipu was eventually killed by the Narasimha Avatara of Lord Vishnu.
In Vrindavan and Mathura, where Lord Krishna grew up, the festival is celebrated for 16 days (until Rangpanchmi) in commemoration of the divine love of Radha for Krishna. The festivities officially usher in spring, the celebrated season of love.
Holi and biodiversity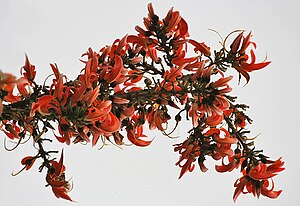 As mentioned in the story above, elephants, snakes, poisons, lion-headed gods are part of the story of the Holi festival. In addition, Holi symbolizes the beginning of spring, when the the winter frosts recede, the flowers bloom and new seeds are sown for a new agricultural season. In many parts of the country, a large bonfire, constructed from fallen twigs, branches and leaves, is lit, symbolizing the end of winter and for an infusion of heat into the environment.
The spring season, during which the weather changes, is believed to cause viral fever and cold. The playful throwing of natural coloured powders has a medicinal significance: the colours are traditionally made of Neem, Kumkum, Haldi, Bilva, and other medicinal herbs prescribed by Āyurvedic doctors.
Consumption of bhang is a ritualistic part of the Holi festival. Bhang (भांग) is a preparation from the leaves and flowers (buds) of the female cannabis plant. Bhang is distributed as a religious offering during festivals like Holi and Mahashivratri. Bhang Ki Thandai also known as Sardai is a drink popular in many parts of sub-continent which is made by mixing bhang with thandai, a cold beverage prepared with almonds, spices (mainly black pepper), milk and sugar. Sadhus and Sufis use Bhang to boost meditation and to achieve transcendental states. Bhang or cannabis is also used amongst Sufis as an aid to spiritual ecstasy. The nihang sect of the Sikh community are one of the consumers of bhang and in their terminology, it is called Sukhnidhan.It started as an ayurvedic medicine wherein, the main use for the Nihangs was to aid in reducing pain from battle wounds, and digestive assistant. [1]. Know more about bhang by clicking here...
Holi and environment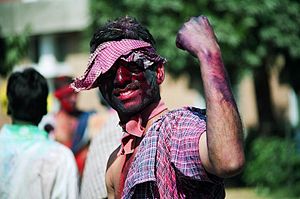 As the spring-blossoming trees that once supplied the colors used to celebrate Holi have become more rare, chemically produced industrial dyes have been used to take their place in almost all of urban India. In 2001, a fact sheet was published by the groups Toxics link and Vatavaran based in Delhi on the chemical dyes used in the festival.[2] They found safety issues with all three forms in which the Holi colors are produced: pastes, dry colors and water colors.
Their investigation found some toxic chemicals with some potentially severe health impacts. The black powders were found to contain lead oxide which can result in renal failure. Two colors were found to be carcinogenic: silver, with aluminium bromide, and red, with mercury sulphide. The prussian blue used in the blue powder has been associated with contact dermatitis, while the copper sulphate in the green has been documented to cause eye allergies, puffiness of the eyes, or temporary blindness[3].

An alleged environmental issue related to the celebration of Holi is the traditional Holika Dahan bonfire, which is believed to contribute to deforestation. A local tabloid had a view published that 30,000 bonfires each burning approximately 100kg of wood are lit in one season.[4] Several methods of preventing this consumption of wood have been proposed, including the replacement of wood with waste material or lighting of a single fire per community, rather than multiple smaller fires. However, the idea of lighting waste material antagonizes large sections of a certain community who take it as a Western attack to their cultures and traditions citing several examples of similar festivities elsewhere.
There is also concern about the large scale wastage of water and water-pollution due to synthetic colors during Holi celebration.
Additional media
| A Holi song from the movie Baghbaan | A BBC documentary on Holi | A ritualistic lighting of the Holi bonfire |
| --- | --- | --- |
| | | |
References
Comments
blog comments powered by

Disqus
More notes like this
Only 15 articles are shown in this list. A total of 64 articles in the database as of this moment. For the complete list, click on further results on the bottom right corner of the above table.
| | | | | | |
| --- | --- | --- | --- | --- | --- |
| Title | Holi festival, environment and biodiversity | Article is on this general topic | Mythology and religion | Author | Gaurav Moghe |
| Specific location(s) where study was conducted | Not noted | General region where study was conducted | Not noted | State where study was conducted | Pan-India |
| Institutional affiliation | Not noted | Institution located at | Not noted | Institution based around | Not noted |
| Species Group | General interest | User ID | User:Gauravm | Page creation date | 2011/10/21 |
Share this page: