Gautam Buddha and the Bodhi Tree
From Biodiversity of India
Gautam Buddha and the Bodhi Tree (Ficus religiosa)
Contributed by: Gaurav Moghe. Adapted from the Wikipedia article on Bodhi Tree and other sources
Discussed species: Sacred Banyan (Ficus religiosa), Peepal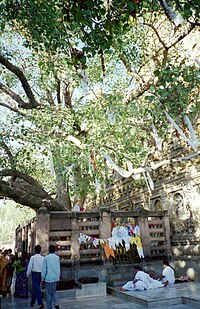 The Sacred Fig,Bo-Tree (from the Sinhala bo), also called the Peepal (पीपल) tree in Hindi, is a species of banyan fig native to India, Bangladesh, Nepal, Pakistan, Sri Lanka, southwest China and Indochina. It is distinct from the Indian Banyan (Ficus benghalensis), but the both are quite related.
The Bodhi Tree was a large and very old Sacred Fig tree located in Bodh Gaya, about 100km from Patna in the Indian state of Bihar), under which Siddhartha Gautama, later known as Gautama Buddha, is said to have achieved enlightenment, or Bodhi. The Bodhi tree at the Mahabodhi Temple is called the Sri Maha Bodhi. According to Buddhist texts the Buddha, after his Enlightenment, spent a whole week in front of the tree, standing with unblinking eyes, gazing at it with gratitude. A shrine, called Animisalocana cetiya, was later erected on the spot where he stood.[1]
The spot was used as a shrine even in the lifetime of the Buddha. King Asoka was most diligent in paying homage to the Bodhi tree, and held a festival every year in its honour in the month of Kattika.[2] His queen, Tissarakkhā was jealous of the Tree, and three years after she became queen (i.e., in the nineteenth year of Asoka's reign), she caused the tree to be killed by means of mandu thorns.[2] The tree, however, grew again, and a great monastery was attached to the Bodhimanda called the Bodhimanda Vihara. Among those present at the foundation of the Mahā Thūpa are mentioned thirty thousand monks from the Bodhimanda Vihara, led by Cittagutta.[2]
The Bodhi tree and the Sri Maha Bodhi propagated from it are famous specimens of Sacred Fig. The known planting date of the latter, 288 BC, gives it the oldest verified age for any angiosperm plant.
For more details, check out the Bodhi Tree page on Wikipedia.
References
Comments
blog comments powered by

Disqus
More notes like this
Only 15 articles are shown in this list. A total of 64 articles in the database as of this moment. For the complete list, click on further results on the bottom right corner of the above table.
| | | | | | |
| --- | --- | --- | --- | --- | --- |
| Title | Gautam Buddha and the Bodhi Tree | Article is on this general topic | Mythological stories | Author | Gaurav Moghe |
| Specific location(s) where study was conducted | Not noted | General region where study was conducted | Not noted | State where study was conducted | Pan-India |
| Institutional affiliation | Not noted | Institution located at | Not noted | Institution based around | Not noted |
| Species Group | Not noted | User ID | User:Gauravm | Page creation date | 2011/08/22 |
Share this page: