Bhils of Central India and Parvati's curse
From Biodiversity of India
Bhils of Central India and Parvati's curse
First published: Project Brahma blog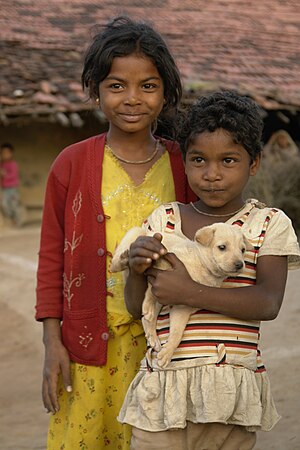 This is a mythological story of the Bhil tribe that is settled in parts of Central India, primarily in Gujarat, Madhya Pradesh, Chhattisgarh, Maharashtra,and Rajasthan. The Bhils live in a highly arid and drought-prone part of India. Thus, farming cannot be their primary occupation. Traditionally, they have been hunter-gatherers and engage in animal husbandry. The Bhils are quite economically backward. I found this story interesting because it is being passed on through generations in the Bhil community, the elders explaining to the new generation why they are so poor and why they cannot engage in farming. This story also illustrates the importance of animals, especially domesticated animals, in helping tribal people achieve prosperity.
As the story goes, once Parvati and Lord Shiva were sitting in their abode in the Himalayas having a discussion about the mortal world. Suddenly, Parvati realized that her brothers were coming to meet her. Parvati greeted her brothers with great joy and spent some time chatting with them. When the time for them to leave came, she asked Lord Shiva to give them a parting gift. Lord Shiva said, "I'm just an Aghori Sadhu! I dont have any material possession to give as gift to your brothers. I'm sorry". Hearing this, the brothers felt sad and left. But Parvati insisted and Lord Shiva, unknown to the brothers, placed a silver pot in their way. But the brothers failed to notice the pot and walked away.
Parvati felt sad. She thought, "If my brothers failed to notice a gift from God, how will they achieve any success in their life?". She went to Lord Shiva again and asked him to give her brothers a valuable gift that can help them learn and achieve success. Lord Shiva said, "Alright! I will give your brothers my precious bull (Nandi).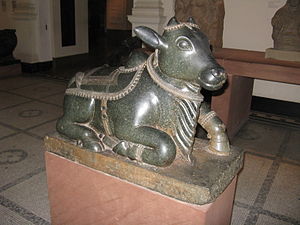 Parvati was happy. She said to her brothers, "Oh my dear brothers! Take good care of this bull and you will become rich and prosperous." The brothers were very happy and took the bull to their home.
However, after reaching home, the brothers started to get very impatient. They thought that since Parvati asked them to take care of Nandi, there must be something valuable in it. One of them suggested that they kill the bull and see if there's any treasure inside. Another brother resisted but in the end, all of them became greedy and agreed to kill the bull.
When Parvati heard that Nandi had been killed by her brothers, she grew very angry. She confronted them and said, "You fools! Nandi was the most powerful and the most sacred bull in all the three worlds. You could have used him for tilling your barren land and for farming, however, you gave up this opportunity and instead killed him." So she cursed her brothers - who belonged to the Bhil community - and their descendants that they will never be able to farm again. And so the story goes for why the Bhils do not (cannot) farm on their lands.
Such stories also pass on an important lesson of respect towards the natural world to the younger generation.
PS: On a lighter note, a little bit of irrigation and proper groundwater management practices may help some bit in lifting Parvati's curse :)
Comments
blog comments powered by

Disqus
More notes like this
Only 15 articles are shown in this list. A total of 64 articles in the database as of this moment. For the complete list, click on further results on the bottom right corner of the above table.
| | | | | | |
| --- | --- | --- | --- | --- | --- |
| Title | Bhils of Central India and Parvati's curse | Article is on this general topic | Mythological stories | Author | Gaurav Moghe |
| Specific location(s) where study was conducted | Not noted | General region where study was conducted | Not noted | State where study was conducted | Pan-India |
| Institutional affiliation | Not noted | Institution located at | Not noted | Institution based around | Not noted |
| Species Group | Not noted | User ID | User:Gauravm | Page creation date | 2012/05/04 |
Share this page: