Help:Documenting community projects
From Biodiversity of India
Division:Community pages is an important section on Project Brahma. Through this section, we hope to encourage the common man, people like you and me without an intensive taxonomic background, to document various aspects of local biodiversity. One important section of this division is documenting the various species present around us. Several NGOs, schools, colleges go out into the nature on field trips and end up documenting several species. Such information, after the trek or the project is over, ends up in hard bound school reports, which are not accessible to people outside the group. Increasing accessibility of such information will significantly boost awareness about local biodiversity and aid conservation.
We have split the process of documenting local biodiversity into two parts:
Filling in some basic information about your project in a structured fashion through a form. This allows us to properly categorize your project and make the results more useful by providing it a broader context
Making a Wikipedia-like entry about your project. This entry will provide the general readers of the website with the specifics of the results - what are the features of the species you documented, what are its uses, how did you end up finding them and anything else you think would be interesting for people to know.
We will try below to pictorially walk you through the process of making wiki pages for your own projects. If you think you do not understand something, please feel free to contact us at admin at projectbrahma dot org. Enjoy!
Filling in the form
Step 1
Type desired title name in Search box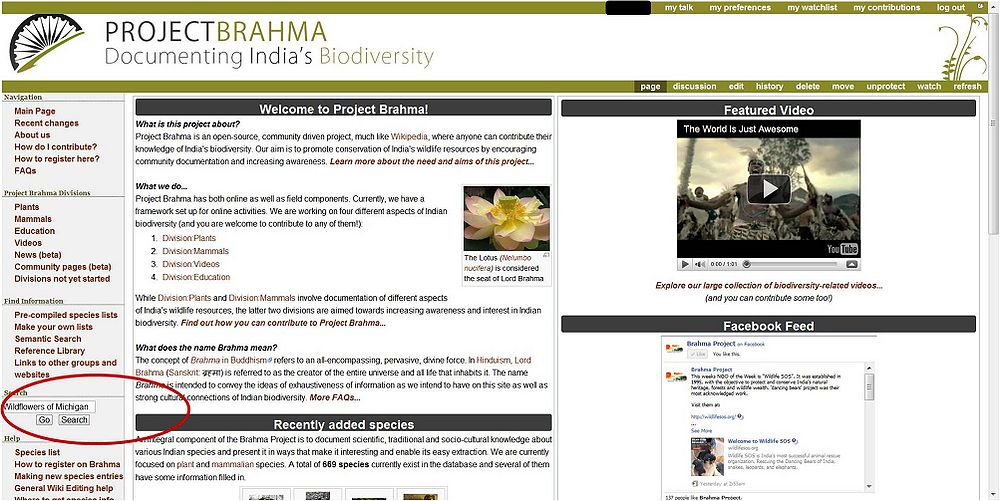 Step 2
If its present, it will show up. If not, click on the "create page" link


Step 3
The following window will show up


Step 4
Copy-paste in the following and click on SAVE.


[[Category:Community pages]]
[[Category:Community documentation projects]]

Step 5
A tab called "edit with form" will be seen on top of the page. Click on it.


Step 6
Fill in the form details. Follow instructions in the form.


Step 7
After you fill in all the details, make sure you carefully read the bottom-most section. The click on SAVE.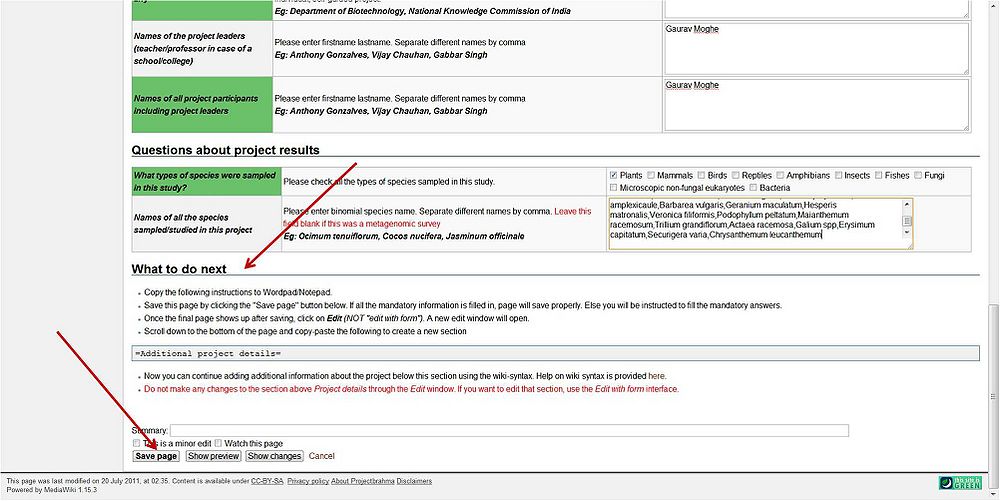 Step 8
A preliminary page containing a table showing your information will be displayed.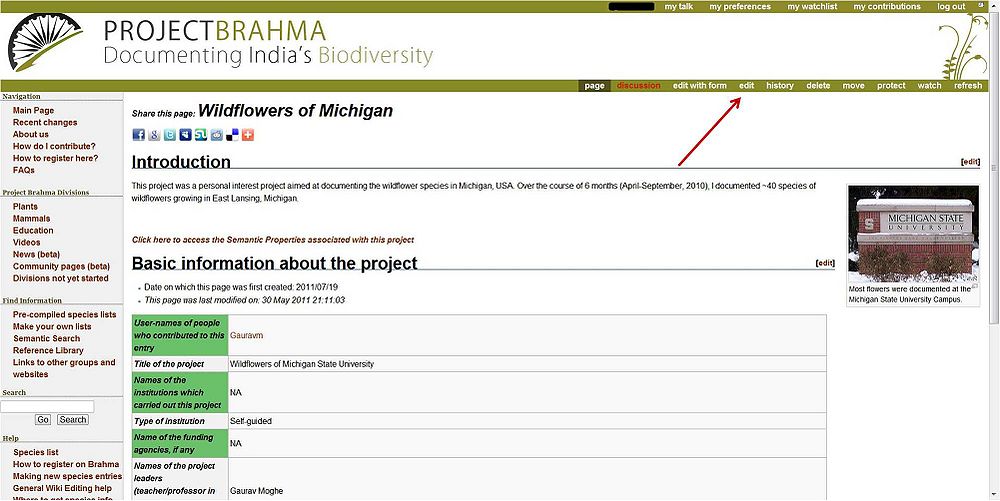 This is just the basic information about the project though. It helps us categorize the project properly. Now if you want, you can make a standard Wikipedia-like entry describing your project textually and with images and videos. If you desire to do that please see the next section.


Making a wiki entry
To make a wiki entry for your project, you will need to click on the EDIT link on top of the newly created community page. DO NOT use the "Edit with form" link.

If you know how to make wiki entries
Proceed with making a wiki entry. Then click on SAVE.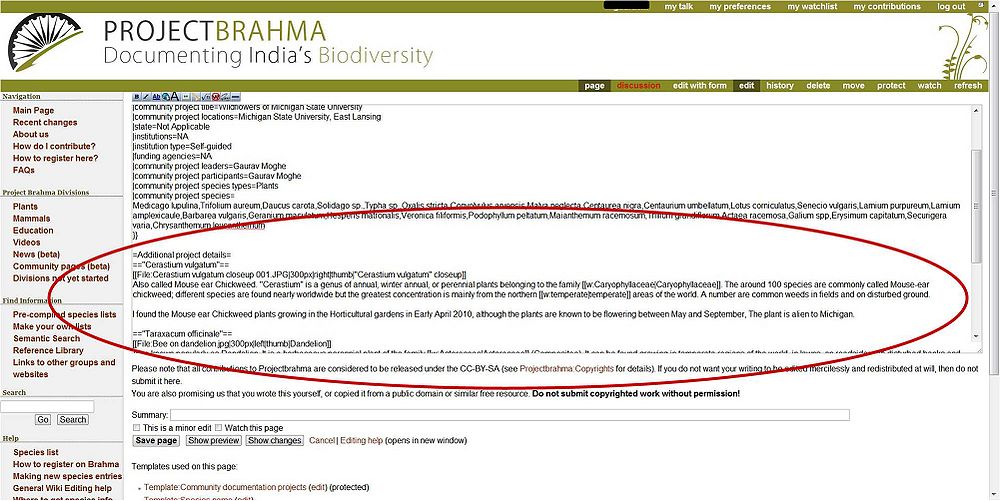 Your wiki section will look something like this...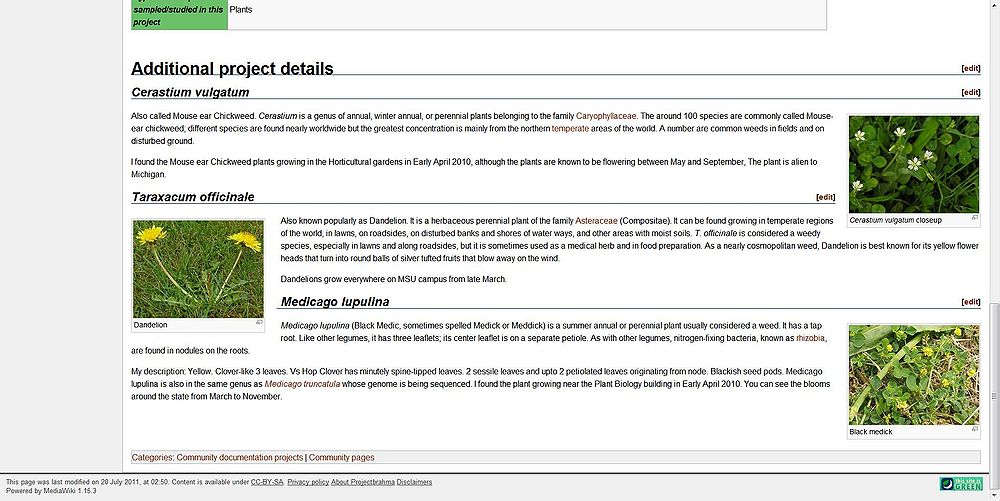 AND YOU ARE ALL SET! Your newly created project page is ready. You can make changes to it anytime later. If you want to change the information in the green-white table, use the EDIT WITH FORM interface. If you want to change only the wiki entry below, use the EDIT interface.


If you dont know how to make wiki entries
If you want us to make an entry for you, please send us a writeup of your report alongwith all the above information to admin at projectbrahma dot org
If you want to learn to make Wiki entries, we have a quick tutorial here: Editing_Help#Quick_tutorial_on_wiki_syntax
If you want some more help, do not hesitate to contact us at anytime. We are very kind, humorous and gentle people. You'll like us.