Neel kamal (Blue waterlily) in Indian culture
From Biodiversity of India
Neel kamal (blue waterlily) in Indian culture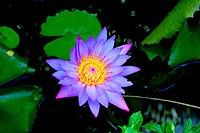 | | |
| --- | --- |
| Discussed species | Nymphaea nouchali (Nymphaea stellata), Blue waterlily, Star lotus, नील कमल Neel Kamal (Hindi), कृष्ण कमल Krishna Kamal (Sanskrit), அள்ளி தாமரை Alli-tamarai (Tamil) |
| Description | This aquatic plant is native to the Indian subcontinent. The plant has been long valued as a garden flower in Thailand and Myanmar to decorate ponds and gardens. It appears in many mythological stories in India. (Wikipedia) |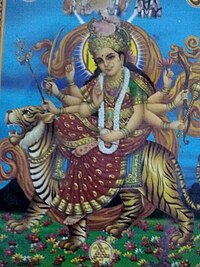 The Blue waterlily is native to the Indian subcontinent. This is evidenced from the myriad mythological stories associated with this beautiful aquatic flower in several Asian countries. In Myanmar and Thailand, the plant has been used since ancient times to decorate ponds and pools [1]. The flower is the National Flower of Bangladesh[1] and Sri Lanka[2]. In Buddhist mythology in Sri Lanka, it is claimed that this flower was one of the 108 auspicious signs found on Prince Siddhartha's footprint. It is said that when Buddha died, lotus flowers blossomed everywhere he had walked in his lifetime[1]. In India, several mythological stories are associated with this flower.
The color of this flower - blue - is likened to that of Lord Krishna. This flower is considered a favorite of Goddess Durga and Draupadi [3]. The following story about this flower is quite interesting:
It is believed that in Ramayana, before the final battle of Lord Ram with Ravana, Lord Ram went to seek the blessings of Goddess Durga. He learnt that Goddess Durga would be happy if he offered a gift of 100 blue water lilies to her. So, Lord Ram roamed the earth trying to find a 100 neel kamals but he managed to find only 99. He then offered one of his eyes - which resembled a neel kamal - to the Goddess. Goddess Durga was pleased and she gave her blessings to Lord Ram, along with his eye. [4][5]
Even to this day, during Durga Puja, these blue water lilies are offered to Goddess Durga[6]. These flowers are also considered sacred for Lord Ganesha (Maha Ganapati)[7]
References
Additional media
A scene from the television show Ramayan, where Hanuman gets a bouquet of 1000 Neel kamal for Lord Ram
References
Comments
blog comments powered by

Disqus
More notes like this
Only 15 articles are shown in this list. A total of 64 articles in the database as of this moment. For the complete list, click on further results on the bottom right corner of the above table.
| | | | | | |
| --- | --- | --- | --- | --- | --- |
| Title | Neel kamal (Blue waterlily) in Indian culture | Article is on this general topic | Mythological stories | Author | Gaurav Moghe |
| Specific location(s) where study was conducted | Not noted | General region where study was conducted | Not noted | State where study was conducted | Pan-India |
| Institutional affiliation | Not noted | Institution located at | Not noted | Institution based around | Not noted |
| Species Group | Plants | User ID | User:Gauravm | Page creation date | 2011/12/30 |
Share this page: